On 24 July, Line successfully defended her thesis.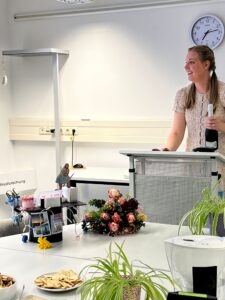 Congratulations to Line – our Dr Andersen deserved her PhD not only in P2Y signalling but also in cake baking! It was a journey with lots of up and downs, but Line mastered the rollercoaster of P2Y with impressive diligence.
This Friday was Line's last day in the lab. She organised a fantastic cocktail party for everyone and received a little surprise from us! Dear Line, we're proud of your achievement and thankful for your contribution to the lab, especially in taming our qPCR Commander. You and your cakes will always occupy a sweet spot in our hearts (and adipose tissue). We wish you all the best in your new position in Copenhagen!
Text by Yiqi, photos by Melissa, cakes by Line.